10 Colors Face Paint Kit
Regular price

$12.99

Sale price

$12.99
Ingredient

Talc 43%,Color Lakes 23%, Acacia Senegal Gum 10.5%, Glycerin 10%, Polysorbate-20 6.5%, Water 5%, Propanediol 2%
Package Dimensions: 7.64 x 5.91 x 1.06 inches; 4.6 ounces
𝐆𝐑𝐄𝐀𝐓 𝐕𝐀𝐋𝐔𝐄 𝐂𝐎𝐌𝐏𝐋𝐄𝐓𝐄 𝐅𝐀𝐂𝐄 𝐏𝐀𝐈𝐍𝐓 𝐆𝐈𝐅𝐓: Bowitzki face paint set come with an easy carry sturdy case, which includes
10 vibrant face paint colors(Red, Orange, Yellow, Grass Green, Blue, Light Blue, Purple, Pink, White, Black),
2 chunky glitter,
2 professional brushes for max coverage, outline and details.
2 professional high-density sponges,
1 body glue,
32 reusable adhesive stencils.
Enough for 50+ face painting. (The result may be different depending on how much you use on each design.)
𝐏𝐄𝐑𝐅𝐄𝐂𝐓 𝐅𝐎𝐑 𝐒𝐄𝐍𝐒𝐈𝐓𝐈𝐕𝐄 𝐒𝐊𝐈𝐍: All ingredients are laboratory-tested and 100% FDA compliant. Cosmetic Grade face paint palette is hypoallergenic, Paraben-free, completely nontoxic, water-based. It is gentle on sensitive skin and perfectly safe for kids. As most makeup, we highly recommend you to test on a small area first. As Bowitzki body & face paint kit is water-based, it can be easily used with water, fast dry in minutes. you can easily wash it off with warm soapy water or wet wipes
𝐍𝐎 𝐄𝐗𝐏𝐄𝐑𝐈𝐄𝐍𝐂𝐄 𝐍𝐄𝐄𝐃𝐄𝐃,𝐏𝐄𝐑𝐅𝐄𝐂𝐓 𝐅𝐎𝐑 𝐁𝐄𝐆𝐈𝐍𝐍𝐄𝐑𝐒:You can just add some drops of water to activate the color, Mix it around until you create a nice consistency and each paint can be blended well with others, so you can create your own colors. It goes on smoothly and has good coverage.
DO NOT HAVE FACE PAINT SKILLS? Don't worry, we have prepared different pattern stencils, which makes face painting more easily and saves you time.
𝐄𝐍𝐉𝐎𝐘 𝐘𝐎𝐔𝐑 𝐇𝐀𝐏𝐏𝐘 𝐏𝐀𝐈𝐍𝐓𝐈𝐍𝐆 𝐓𝐈𝐌𝐄: This face painting kit is ideal for festivals, carnivals, birthday parties, theatre performances, sports events, party show, Cosplay, Christmas and Halloween makeup, children can be a lot more fun with this!
𝐌𝐎𝐍𝐄𝐘 𝐁𝐀𝐂𝐊 𝐆𝐔𝐀𝐑𝐀𝐍𝐓𝐄𝐄: We're so confident you'll love our Face Paint, so we offer a refund if you are not 100% satisfied. It's a great deal without risk!
Share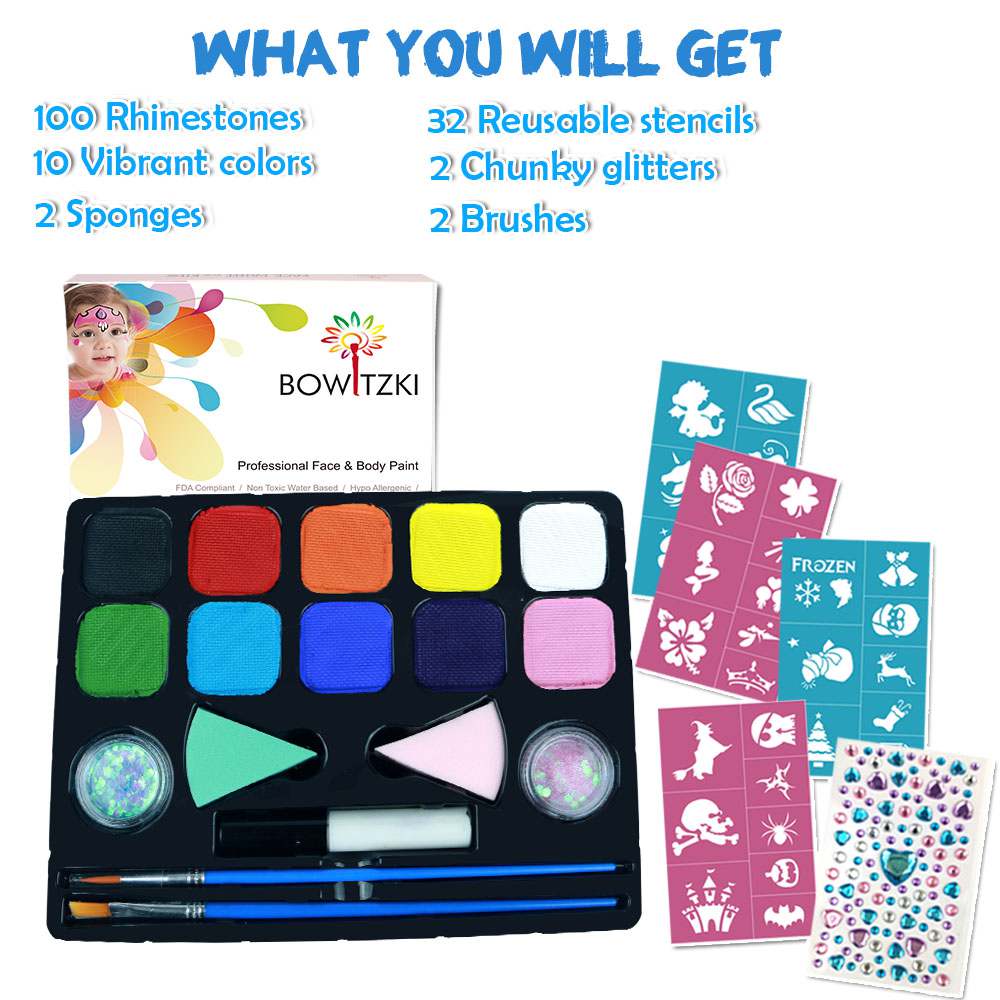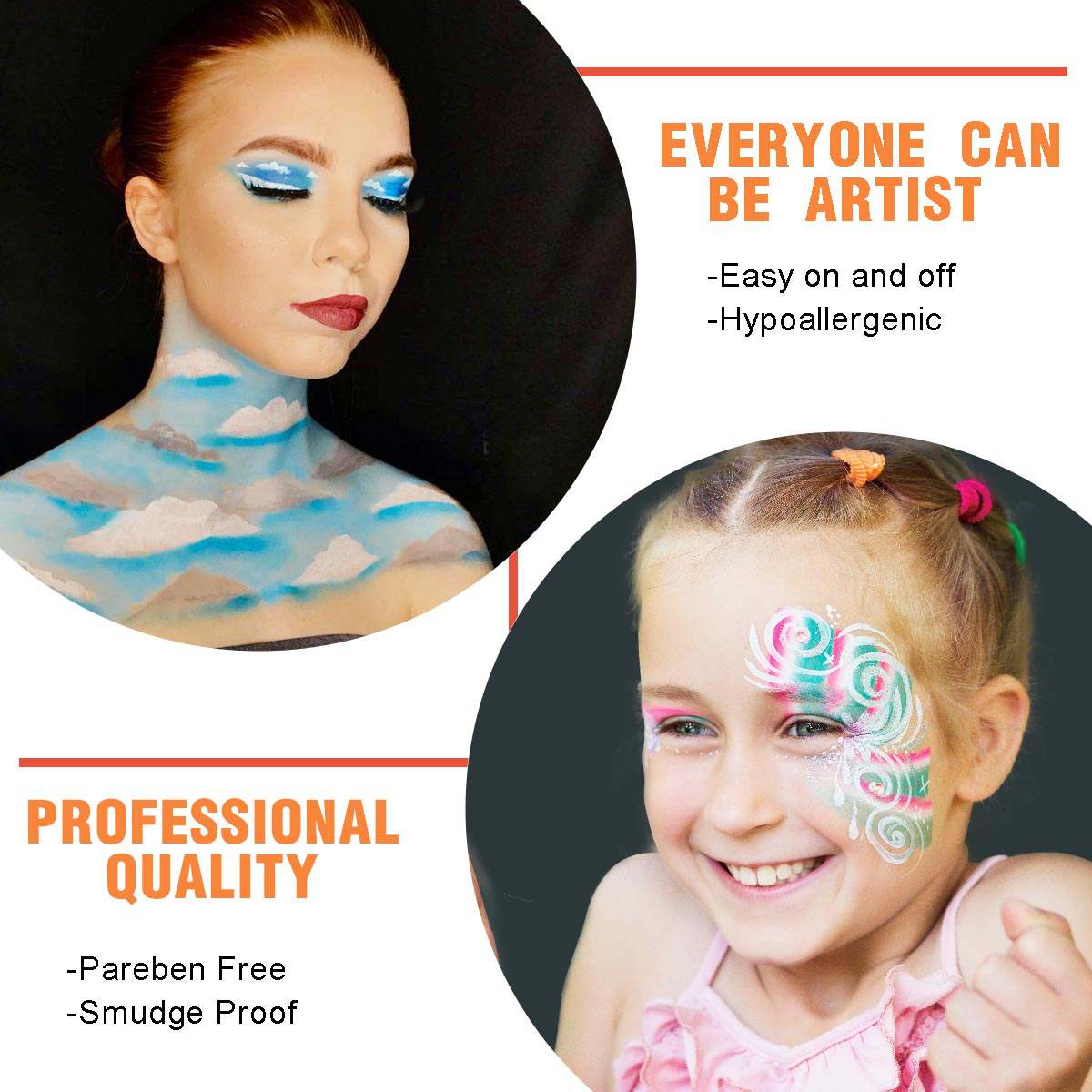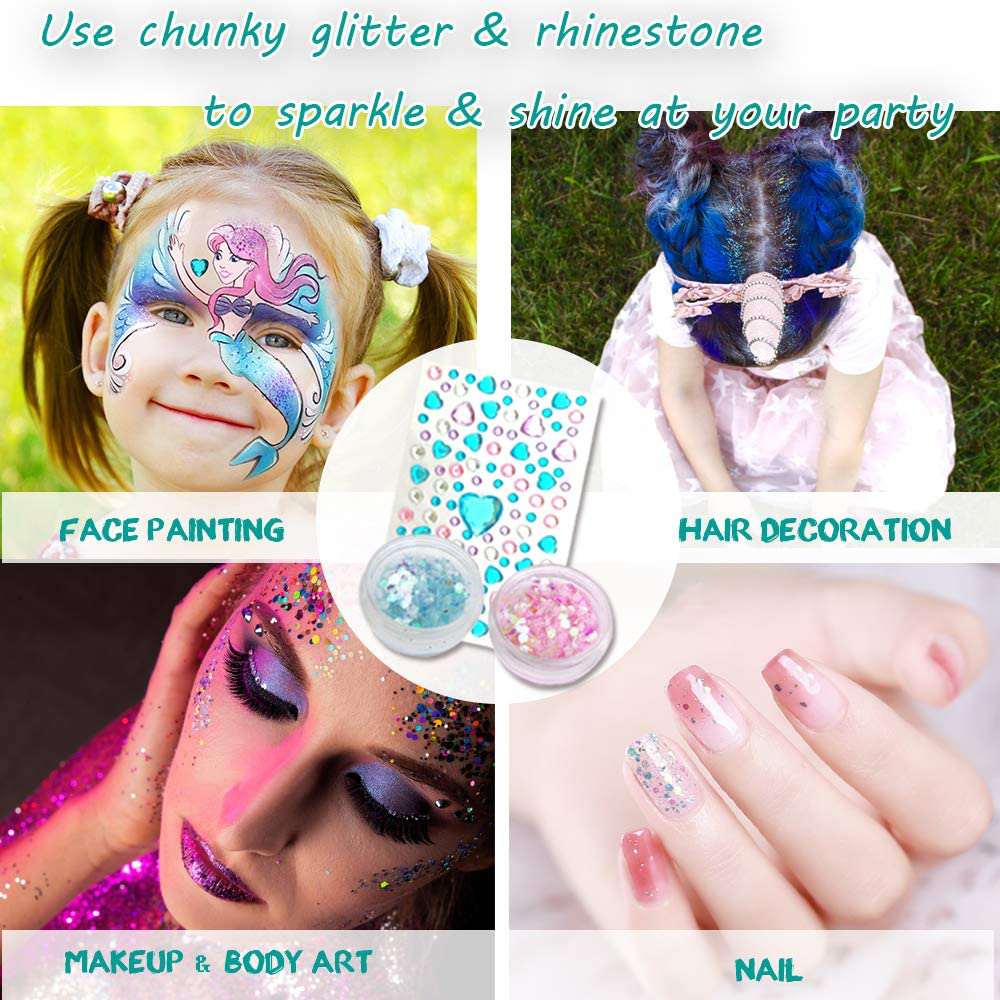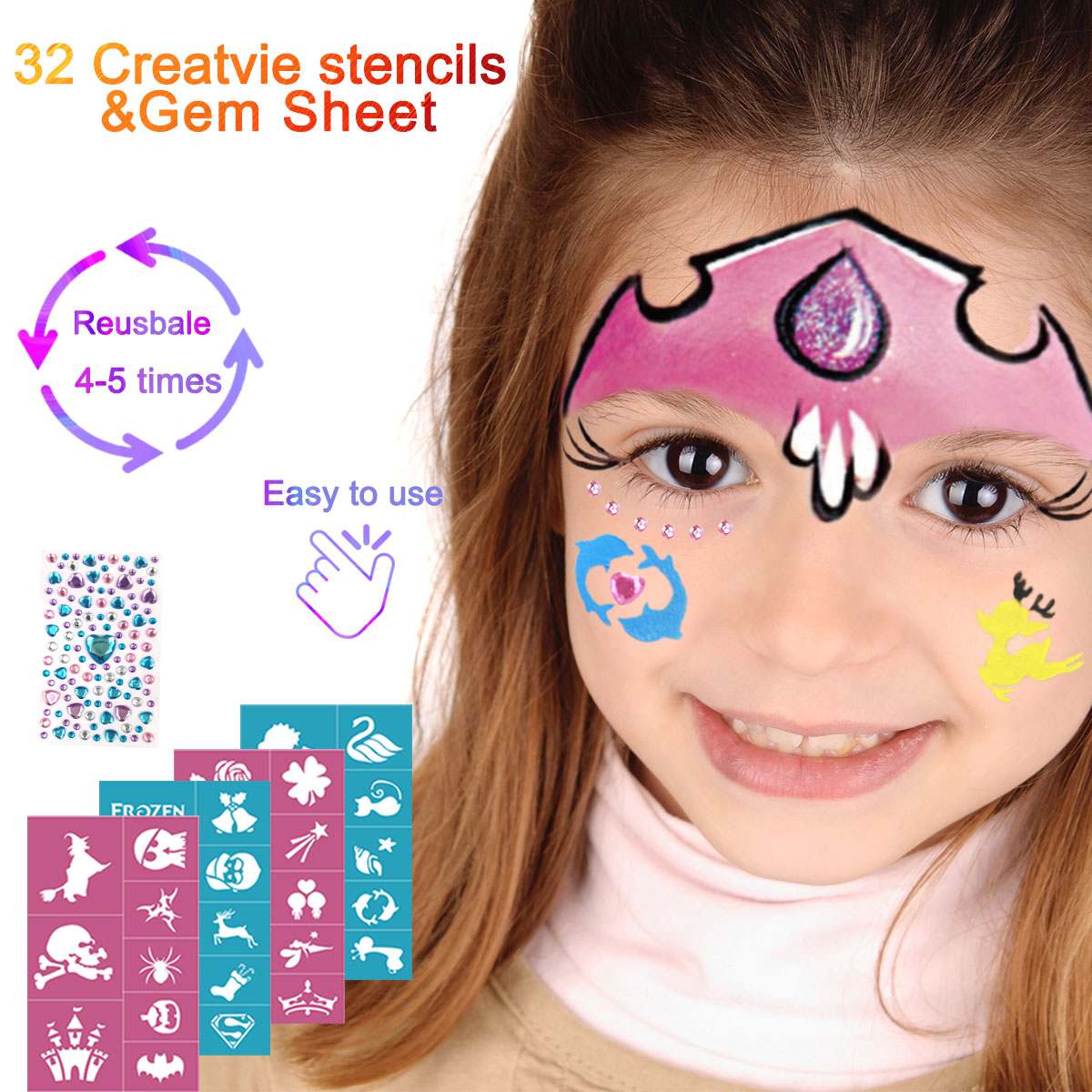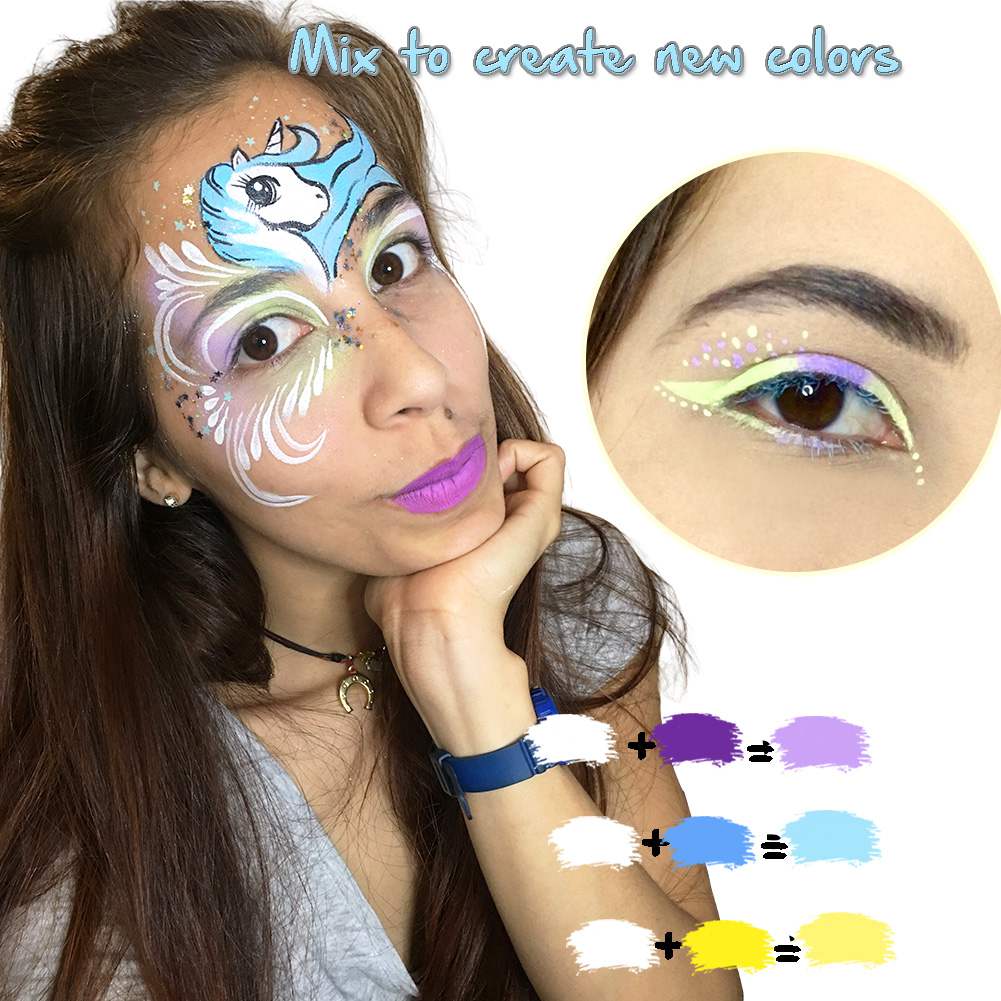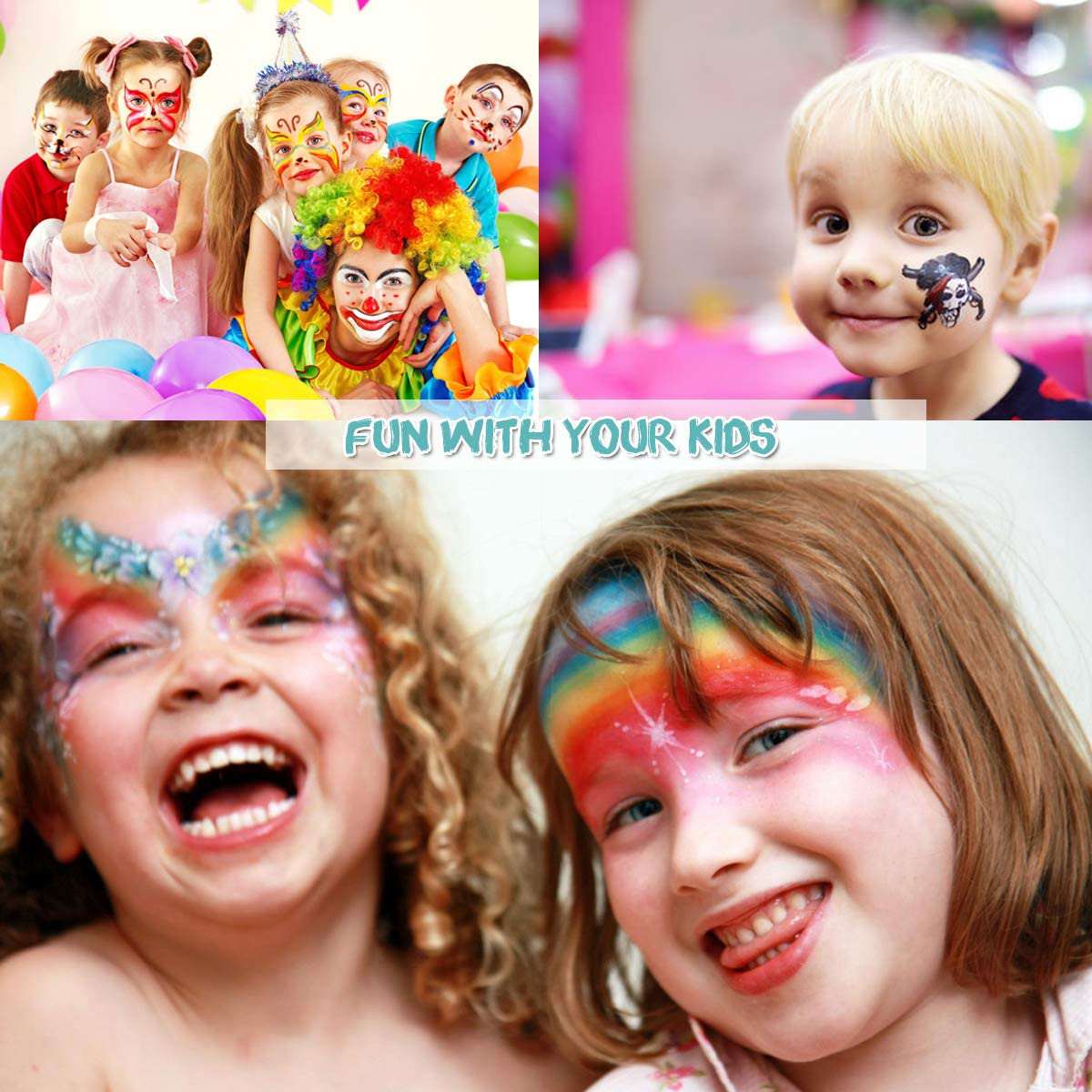 FAQs
Does it come off easily?

Yes, washable and easy removal.With warm water and soap.
I want to hold a family party about 10 people,is it enough for it?

Yes, it should be enough.
Where is it made?

Made in PRC. They comply with all FDA regulations
How to use chunky glitter?

You can use a brush to apply chunky glitter on freshly applied paint. As they are cosmetic grade, you can also use on face, body, hair, nail. First apply some adhesive such some body glue, hair gel, Vaseline, etc. then stick glitter on.
l haven't paint before,is it easy for beginners?

Yes, this paint is perfect for beginners.
Is it cruelty free and vegan?

We promise our bowitzki products are all cruelty free and vegan.