Professional Neon Face Paint Palette
Regular price

$20.99

Sale price

$20.99
Ingredient

Water,Propylene Glycol ,Calcium Carbonate,Glycerin,Dimethicone,Polysorbate 20,
Glyceryl Stearate ,Sodium Stearate,Polyvinyl Alcohol,PEG-32,PVP,phenoxyethanol ,Color Lakes(CI 77891,CI 77499,CI 77266,CI 77491,CI 77492,CI 15850,CI 45410,CI 16035,CI 19140,CI 15985,CI 47005,CI 42090)
Professional Neon Face Paint Palette including 
6 neon colors: neon yellow, neon orange, neon magenta, neon pink, neon purple, neon green
6 matte colors: white, black, art yellow, red, sky blue, lake green, 
𝐍𝐎𝐍 𝐓𝐎𝐗𝐈𝐂,𝐏𝐄𝐑𝐅𝐄𝐂𝐓 𝐅𝐎𝐑 𝐒𝐄𝐍𝐒𝐈𝐓𝐈𝐕𝐄 𝐒𝐊𝐈𝐍: Bowitzki face painting kit is FDA compliant,it is hypoallergenic, Paraben-free,nontoxic, water based and very safe. There's no need to worry about our Face paint causing allergic reactions or eczema fare ups. As most makeup we highly recommend you to test the face paint on a small area first.
𝐂𝐎𝐌𝐏𝐋𝐄𝐓𝐄 𝐅𝐀𝐂𝐄 𝐏𝐀𝐈𝐍𝐓 𝐊𝐈𝐓: Our Bowitzki face painting palette comes with a easy carry sturdy package,Including everything you need for painting,such as 12 bright colors(10ml/color,enough for 100+faces),2 professional brushes for max coverage,outline and details.2 high quality makeup sponges,gold & silver glitter powders.40 stencils for beginners.
𝐄𝐀𝐒𝐘 𝐓𝐎 𝐔𝐒𝐄 𝐀𝐍𝐃 𝐖𝐀𝐒𝐇 𝐎𝐅𝐅: As Bowitzki body & face paint set is water based,it can be easily used with water,fast dry in minutes.you can easy wash off with warm soapy water or wet wipes.Before painting,you could use some face cream or body lotion on your skin that would make the paints easy to remove.
𝐏𝐄𝐑𝐅𝐄𝐂𝐓 𝐅𝐎𝐑 𝐌𝐀𝐍𝐘 𝐎𝐂𝐂𝐀𝐒𝐈𝐎𝐍𝐒: Professional face paint kit ideal for festivals,carnivals,birthday parties,theatre performances,sport events,party show,Cosplay,Christmas and Halloween makeup which can be a lot more fun with this!
Share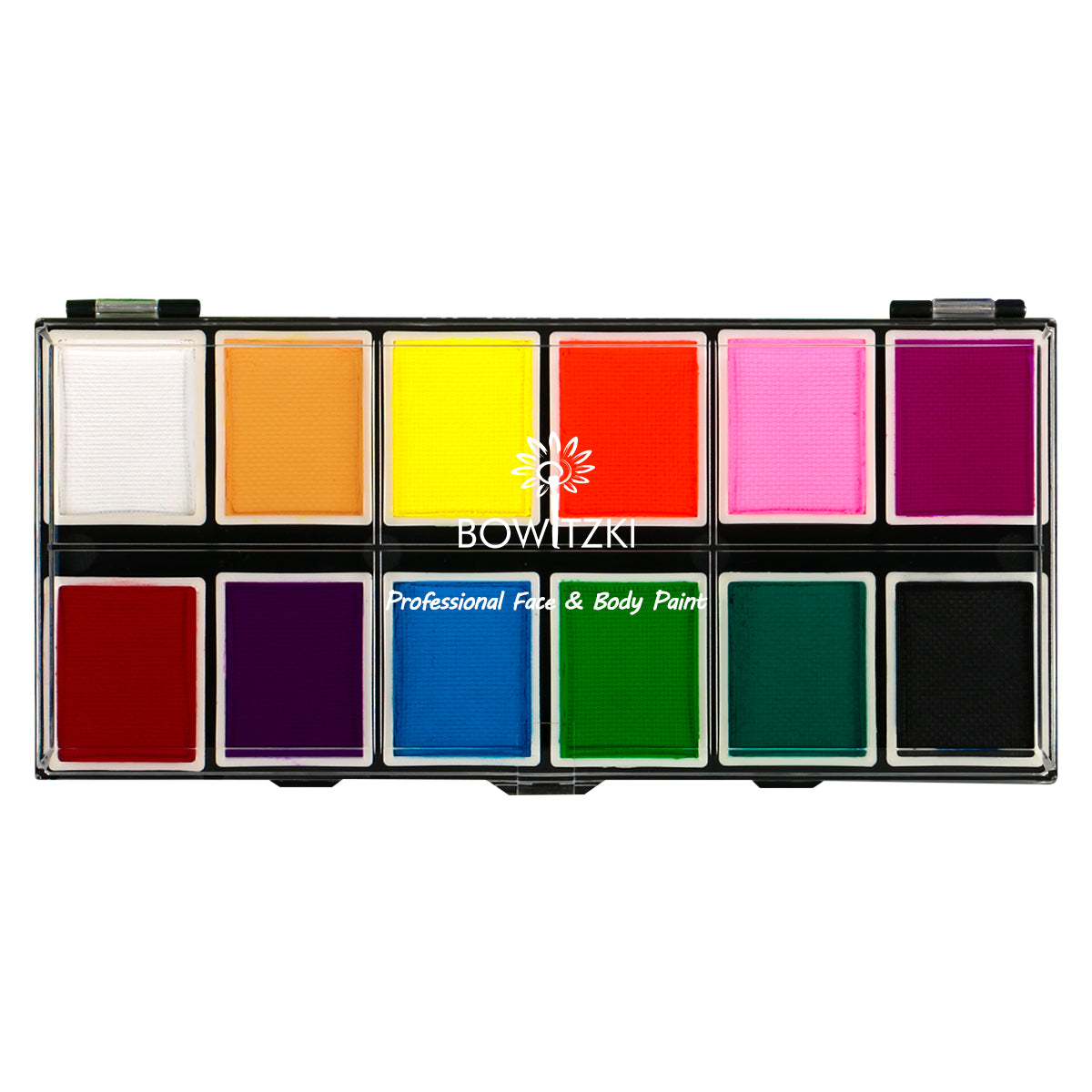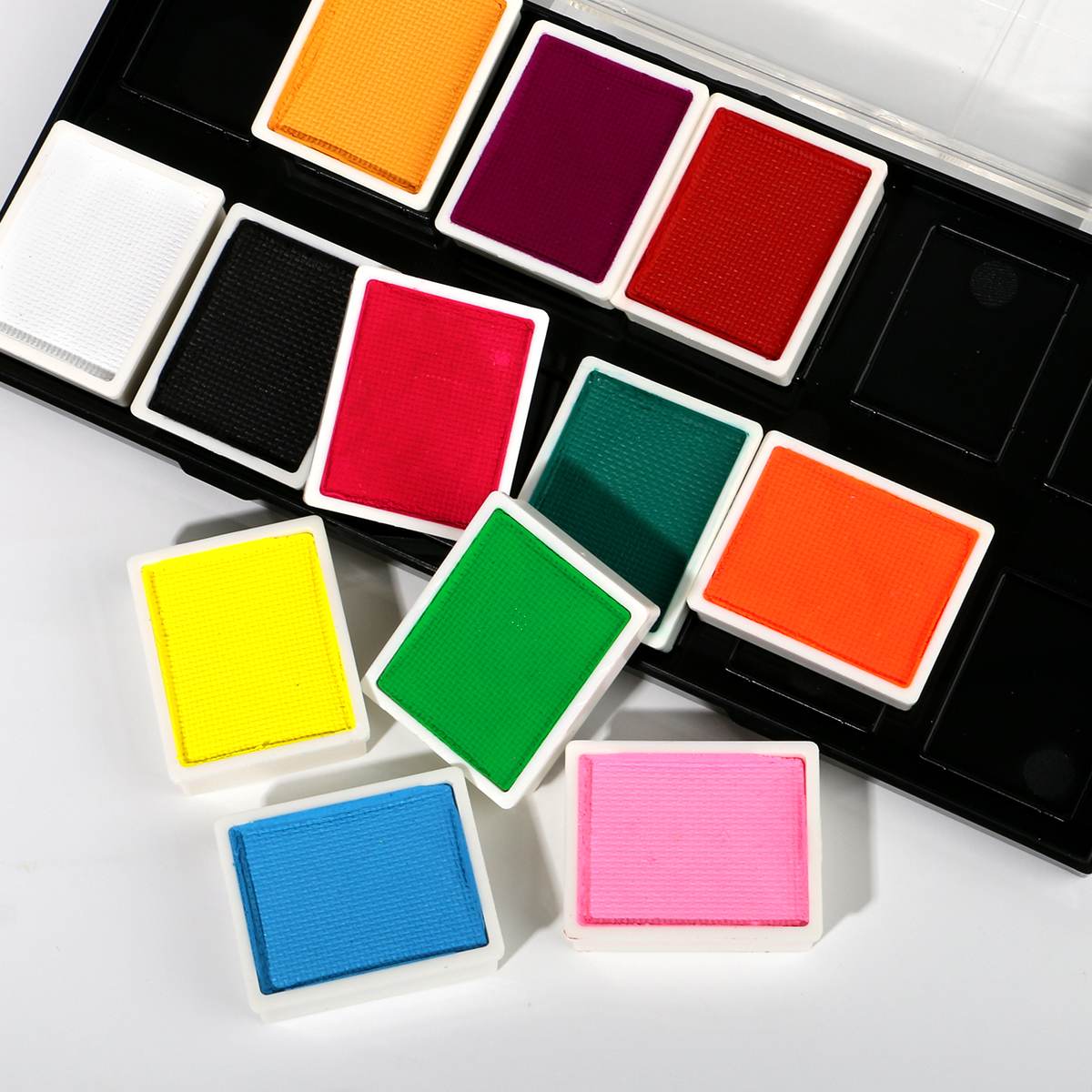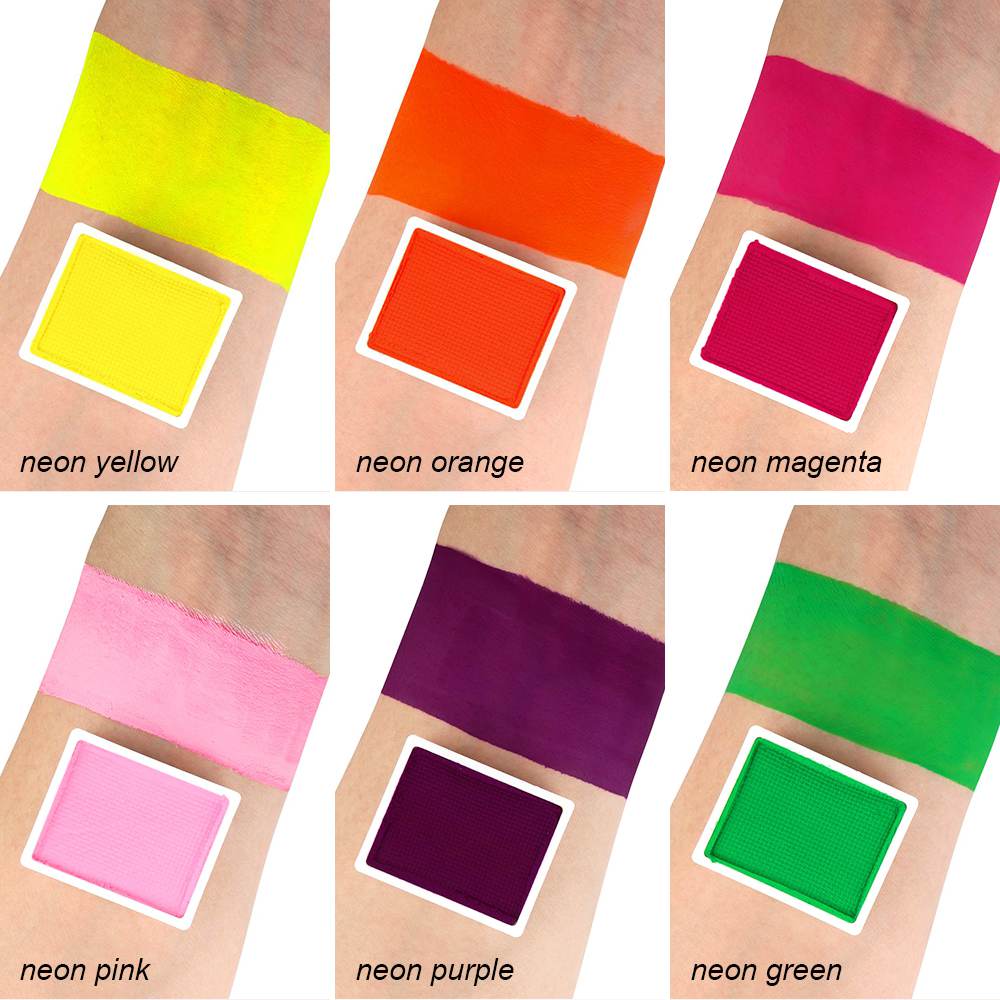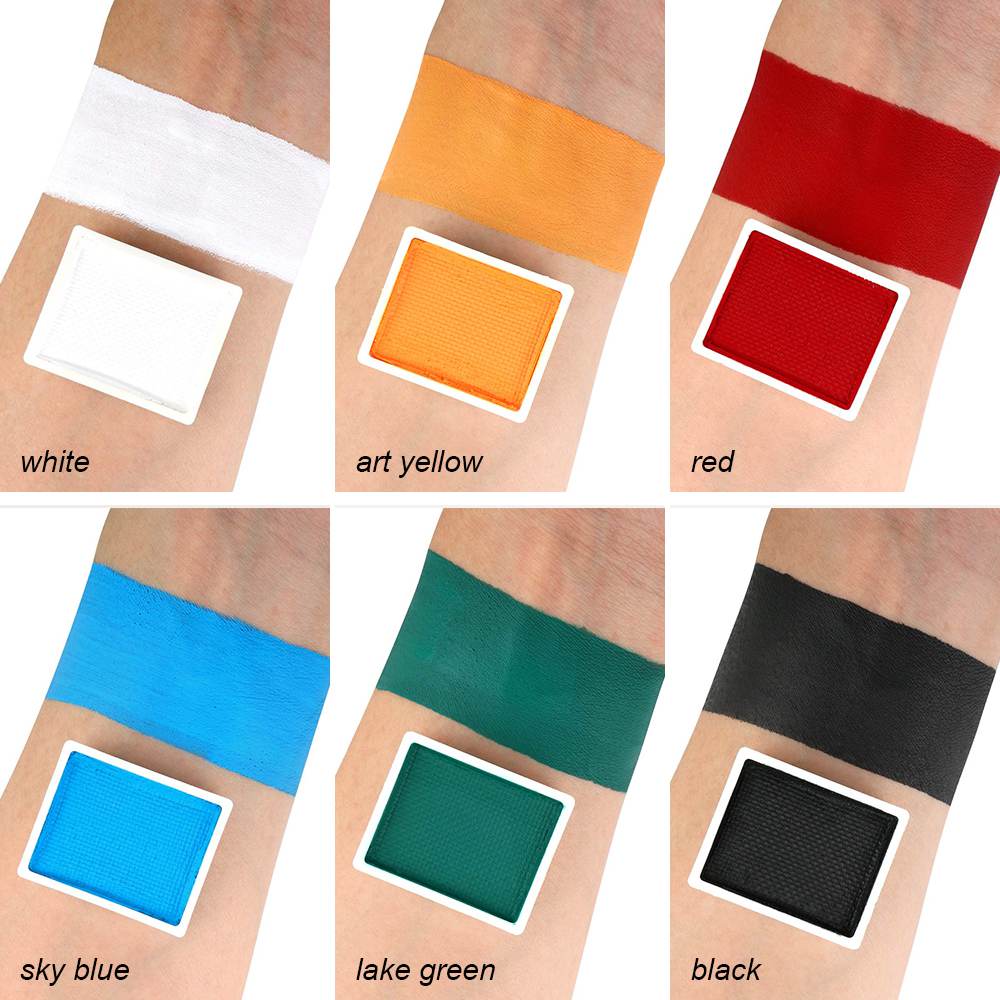 FAQs
Do your products contain gluten?

All products are gluten free and made in a gluten free facility.
Is there an expiration date for the product?

We recommend that you use your face paints within 12 months of opening.
What is the way to use the product? Should water be added? If so, then how much?

Being that the paints are water based, you'll be using water on your brushes and sponges to apply it.
How long does it take for the paint to dry on the face so that it can be touched without the paint being smeared?

When on skin the paint dries within a minute (depending on thickness of the layer).
How many hours does the color hold on your face (if you do not wash them)?

If you do not rub it, it will stay for 12 hrs until you wash it off under normal circumstances.
However, we do not have any specific experience for long time use.
Is it possible to mix the colors so that we receive additional shades?

Yes, you can get new shades if mix colors.